Champion Sidecars & Reverse Gears:


FOR A LIMITED TIME

FREE SHIPPING

 ON REVERSE GEAR ORDERS IN THE U.S.A.
The Best In Sidecars & Reverse Gears
Champion Sidecars & Reverse Gears (formerly Champion Trikes & Sidecars) has long been the leader in the motorcycle sidecar and trike kit world with its Champion Avenger Sidecar, Champion Legend Sidecar, Champion Vintage Sidecar, trike conversion kits, Harley Trike Kits, Indian Trike Kits and Honda Trike Kits. Now moving away from motorcycle trike kits, Champion is focused exclusively on presenting the best motorcycle sidecars and motorcycle reverse gears America has to offer. Consequently, Champion Sidecars and Reverse Gears is poised to bring you the best products and customer service to date. That is to say, they have an extensive dealer network to help keep your dreams alive by owning a new Champion Sidecar or a reverse gear for your Harley Davidson trike kit, 2-wheeler motorcycle reverse gear or reverse gear for sidecar!
So if you're looking for a Harley Davidson Sidecar, Indian Motorcycle Sidecar, Honda Motorcycle Sidecar or the like, that is expertly manufactured and assembled, they are ready to help get you on the road.
Moreover, Champion is proud to offer the very best in mechanical reverse gears for your Harley Davidson motorcycle. Works for bikes, trikes, and sidecars, has a Low Gear Ratio for easy control and much more. The quality craftsmanship of Champion, in particular, provides Reverse Gears for 6 Speed Harley Davidson Motorcycles with the Cable Clutch and the Hydraulic clutch option.
Made in America, Champion Sidecars and Reverse Gears are 100% manufactured and assembled in the U.S.A.

Shop Champion Sidecars & Reverse Gears
See the reverse gear in action!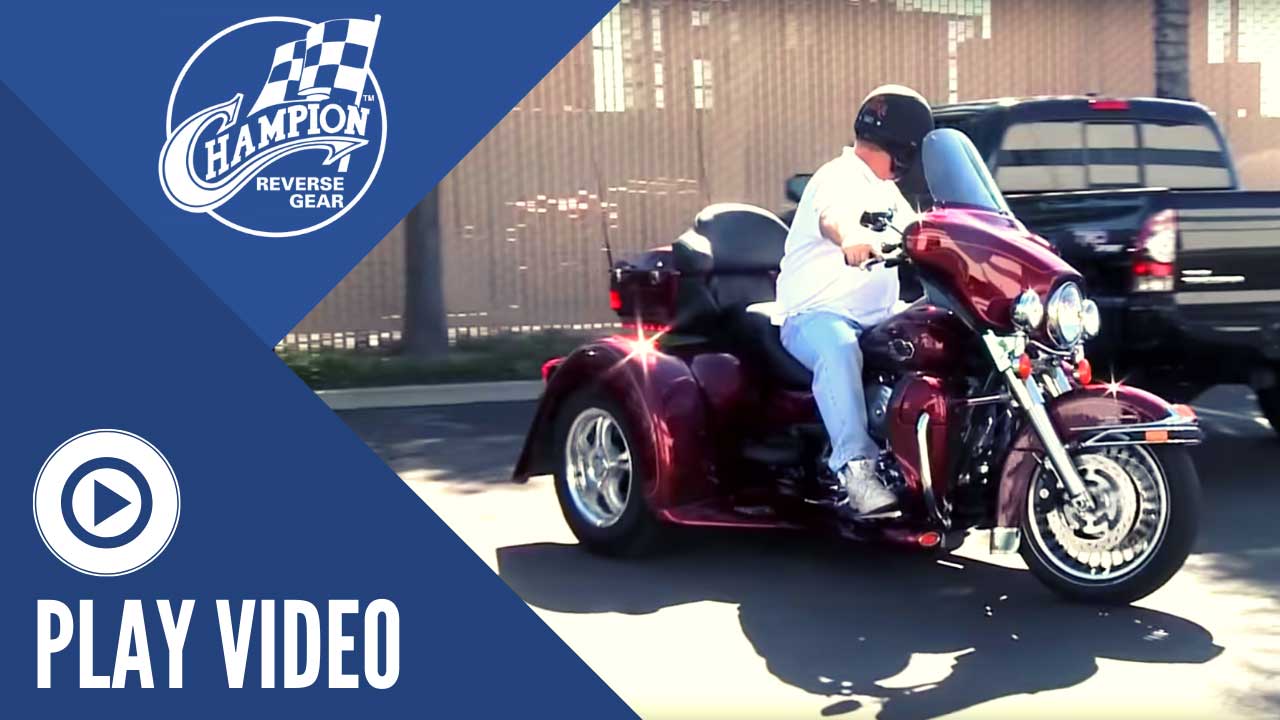 FOR A LIMITED TIME FREE SHIPPING ON REVERSE GEARS IN THE U.S.A.
International Rates Available at Checkout
Reverse Gear Installation guides
Get the help you need with the Champion Reverse Gear Installation Guides.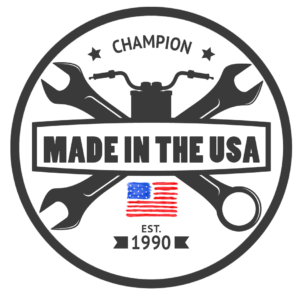 Our expertly manufactured and assembled sidecars, gives you the confidence that you are safe and secure on the road. Additionally, our reverse gears are made with precision-engineered aerospace materials with easy-to-follow instructions. They are clutch operated, so no battery drain. Limited 1 year warranty. As a top motorcycle sidecar manufacturer, it is imperative that we maintain the ever so important phrase, "Made in the USA," next to our name!
manufactured and assembled in the U.S.A
Do You Have Any Questions?

Below are some commonly asked questions about Champion Sidecars and Reverse Gears. We are here to help you in any way, so please use the number or contact form below to reach out to us.
Q: Why choose a Champion Sidecar?
A: A sidecar gives you the ability to take an additional passenger (or your dog), plus you can use it to carry items from the store or even camping gear.
Q: Are Champion Sidecars removable?
A: Yes they are. Champion has designed our sidecars to be removed and/or re-installed in less than 15 minutes.
Q: How many model sidecars does Champion offer?
A: Champion offers three (3) different style sidecars – CLICK HERE for pictures and pricing.